This is NOT your ordinary log home. Timber-frame homes are both housing and a work of art. Each timber frame is made of large hand-crafted wooden beams locked together with wooden pegs to form the visible interior. It is a form of construction where metal, including nails, isn't used. The only thing holding the structure together is wood. The wooden pegs and timbers harmoniously expand and contract. It is a living sculpture with timeless strength and beauty.
Timber-frame construction techniques have been around for hundreds of years. It was common practice until the early 19th century. At that time, milling methods shifted to machines. Large electric circular saws enabled mills to produce huge quantities of lumber and "stick frame" construction became the norm.
Many different types of wood can be used for a timber-frame: Douglas fir, white pine, oak and spruce, to name a few. Not only do the wood beams in timber-frame homes present an artful exterior, the homes have open interior designs that showcase their exposed architecture. The various types of wood warm up the interior with color, texture, and style.
Old Virginia Log Homes is one of the finest producers of hand-hewn log homes. They offer three different Log Systems:
Their website states, "Our timber-frame homes come in all sizes, from small cabins to expansive homes. While timber frame construction tends to cost more than traditional stick-frame construction, the extra planning, materials, and labor results in a truly unique and durable home."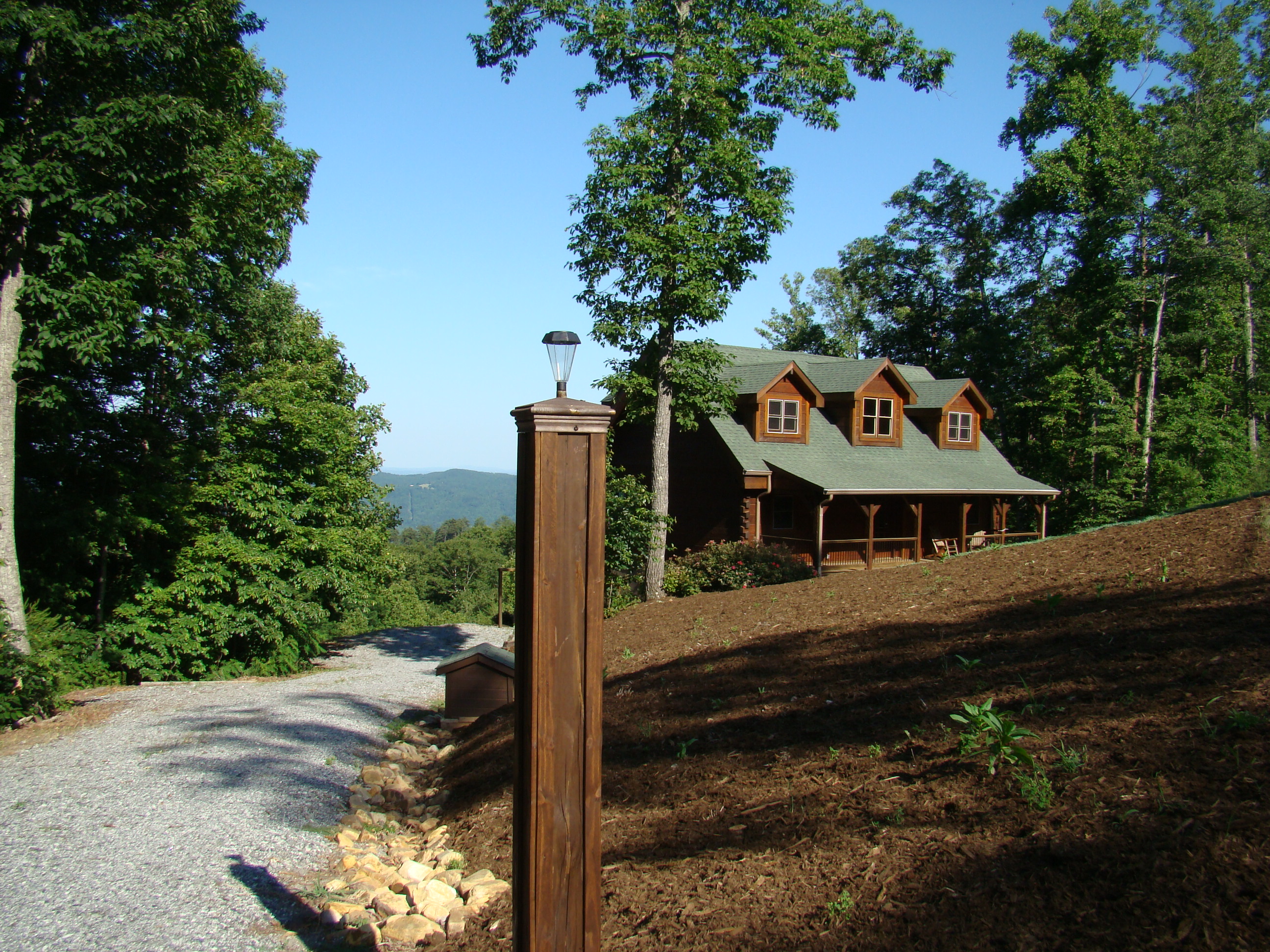 This three bedroom Old Virginia Log Home is built with heavy timbers and hand-hewn logs. Notice as you step up onto the front porch that there are pegs above the windows and front door. These pegs are not decorative, but supportive, these hold the interior beams in place. The home is built on a 4.68-acre lot. Its Superior walled basement is framed up and plumbed and a garage door allows you to bring in a golf cart or 4-wheeler. The Master bedroom has a walkout onto a beautiful deck that affords a year round view, day and night. The open loft has a hall with a bedroom and bathroom on each side of the house, allowing for privacy. Striking views are framed by windows on either side of the floor to ceiling stone fireplace. Enjoy sunrises and long distance views as far as Kings Mountain. You'll have some distant night twinkle here and will find yourself enjoying the view from the deck at night, too.
This timeless Old Virginia Log home is not only beautifully crafted, but a functional work of art. Welcoming and stylish, it is perfect for everyday living and incomparable for holiday entertaining.
But wait - there's more! This home is in the foothills of WNC in the Yellowtop Mountain Estates Community, an 1100 acre Fall Creek Development. You may visit the POA online at Yellowtop Mountain Estates